Monday, December 10, 2012
December Happenings
As is usually the case in December, our days are filled with activities and fun! The house is decorated, and the presents are purchased. After a little wrapping and some baking, we will be ready for Christmas!

Not all our December events are related to the holidays. We've had other things going on as well. A few weeks ago, Andrew participated in a local math competition. Students were selected to participate from area schools based on their math performance in class and on standardized tests. Last year, Andrew placed sixth, so he was putting pressure on himself to place again. Awards are given to the top twenty students who place, and as they counted down, I was just sure he was not going to place (and dreading the car ride home with a disappointed boy). I should have had more faith! For the second year in a row, he took sixth place. His mathematical mind would tell you, however, that his performance this year was better because he was 6th out of 170 last year, and he was 6th out of 230 this year. :) Either way, I am proud of him for working so hard and attempting some very difficult problems. I am glad it was him and not me!


Basketball season started the first weekend of December, and both kids are having a great time. Andrew has won his first two games, while Emily lost her two. On the day of her first game, she was so excited about scoring two baskets that she didn't even know they lost. The two males in my house did not understand how you could leave your game not knowing the score. I'm just glad she had a good time!


We recently got an email from Emily's teacher that was sent to all parents letting us know that we needed to encourage the kids to focus until the Christmas break. I am not surprised they are having trouble. A few weeks ago, the kids got to decorate their desks for the holidays. I don't think I would be able to concentrate if this was on my desk either. How can you work with a constant reminder that CHRISTMAS IS COMING!?!?


Of course, I am thankful the kids get to do things like this. It seems so many of the fun, memorable and enriching aspects of school are being removed because of test pressure. We are blessed to be in a school that still allows some excitement every now and then!

The kids aren't the only ones having a good time. I've gotten to see one of my dearest friends twice lately. Because she lives in Alabama, we don't visit as often as we would like, but circumstances allowed us to catch up on two separate occasions in recent weeks, and I am very thankful for that. If she ever decides to quit being my friend, I will have to kill her. She knows too much about me!



Our days are busy, but filled with joy, and we've got some exciting events coming soon! Some of them are big surprises for the kids. Can't wait to fill you in here!
posted at
10:20 AM
0 comments


Wednesday, December 5, 2012
Update on Me
It's difficult for me to believe that it's been three years since I started having health issues. Those of you who have been around for a while will remember that in November of 2009, I started feeling badly and coughing non-stop. After many months and tests, the doctors determined I had asthma. Although the asthma medicines did help the coughing, I stayed sick with a constant sore throat and sinus infections throughout 2010.
Finally, I discovered that I didn't have asthma at all. Instead, I had severe reflux and digestive issues. At first, reflux medicines cleared everything up, but in only a few months, I started needing higher dosages to keep everything in check. In March of 2011, I put myself on a restricted diet known as the Specific Carbohydrate Diet (also known as the GAPS diet). Amazingly, this diet cleared up MANY of my health issues, even things I had been dealing with for years.
For the most part, I eat meat, fruits, vegetables, and nuts. I can have butter, cheese, and homemade yogurt, but no other dairy. Sugar and grains are big no-no's. For 18 months, I have followed this diet very strictly, with occasional cheats (like every few months). When I am on this diet, I feel great, but if I cheat, my symptoms return.
Recently, I had a well-visit to check some blood levels--during my health issues I was deficient in D and B12. After discussing my progress and the effects of occasional cheating, my doctor and I discussed that many of the problems I have when I am cheating (and problems I lived with for years) are signs of celiac disease. I was tested for celiac earlier this year, but because I had already been off gluten for a year when I was tested, the negative result is not very reliable. I asked my doctor if she thought I should eat gluten for a while and be retested, but she said that I shouldn't put myself through that. Basically, she labeled me as non-celiac gluten sensitive and told me not to eat gluten anymore.
In some ways, this doesn't change my life too much. I haven't been eating gluten on a regular basis anyway. I plan to stay away from gluten all the time now, but the diagnosis actually frees me a little bit. If I limit my occasional indulgences to gluten-free items, I should be able to stay well. When you are grain-free, dairy-free and sugar-free, it is almost impossible to eat outside your own home. Now I am able to eat in restaurants, as long as gluten is not in my meal. It has been great to eat out with friends or to have a treat like a gluten-free cupcake without the negative effects! While I plan to stick with being sugar-free most of the time, I also want some fun every now and then, and I am happy that sticking with gluten-free options will spare me the consequences that come with throwing all my restrictions out the window!
Having treats like these once in a while is making me smile, and I can do it without the guilt (well, maybe a little guilt, but without the same digestive consequences)!
Gluten-Free Winter Wonderland Cupcake from Gigi's Cupcakes
It's amazing that this journey is at the three year mark, but I am thankful for the experience and the progress. Although I can't eat in the carefree way that I used to, I am eating much healthier today than I was then, and I've learned a lot about myself. The process hasn't always been enjoyable, but I am thankful to God for where I am today!
Labels: Me
posted at
1:56 PM
2 comments


Tuesday, December 4, 2012
Thanksgiving
We had a wonderful Thanksgiving week! Adam and the kids were home all week, so we were able to enjoy some lazy days together (even though the kids still woke up about 6:15 every day--will they ever sleep late?). On Thanksgiving Day, we headed to my aunt's house, which is about an hour away. My parents were planning to be in New Mexico at my brother's house, but they had some last minute schedule changes and were able to eat Thanksgiving lunch with us.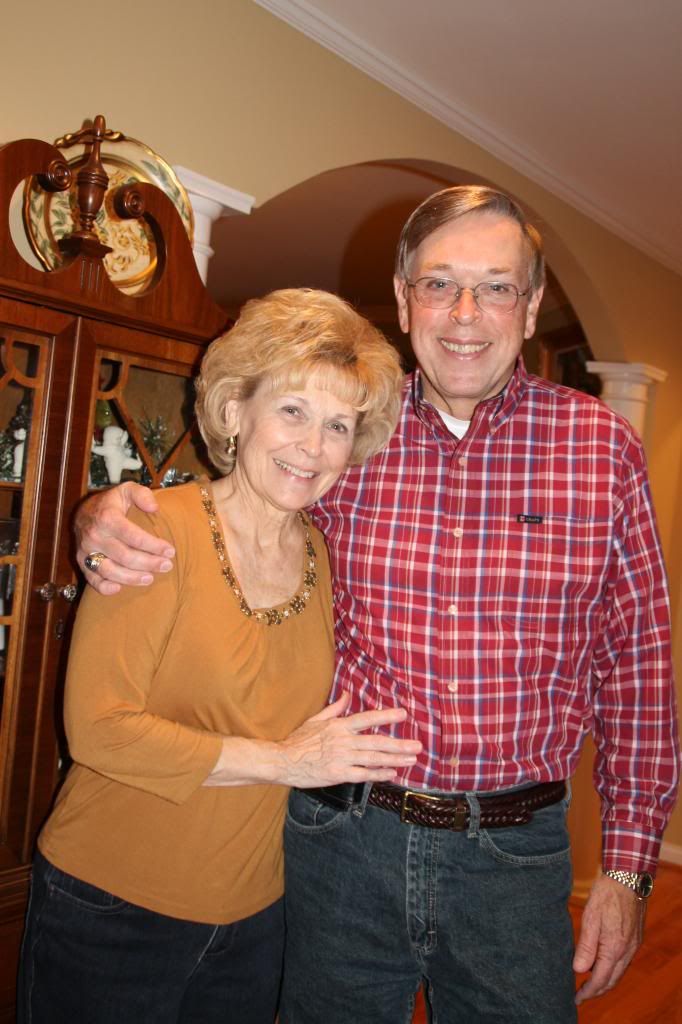 Brother and Sister (My Dad and Aunt)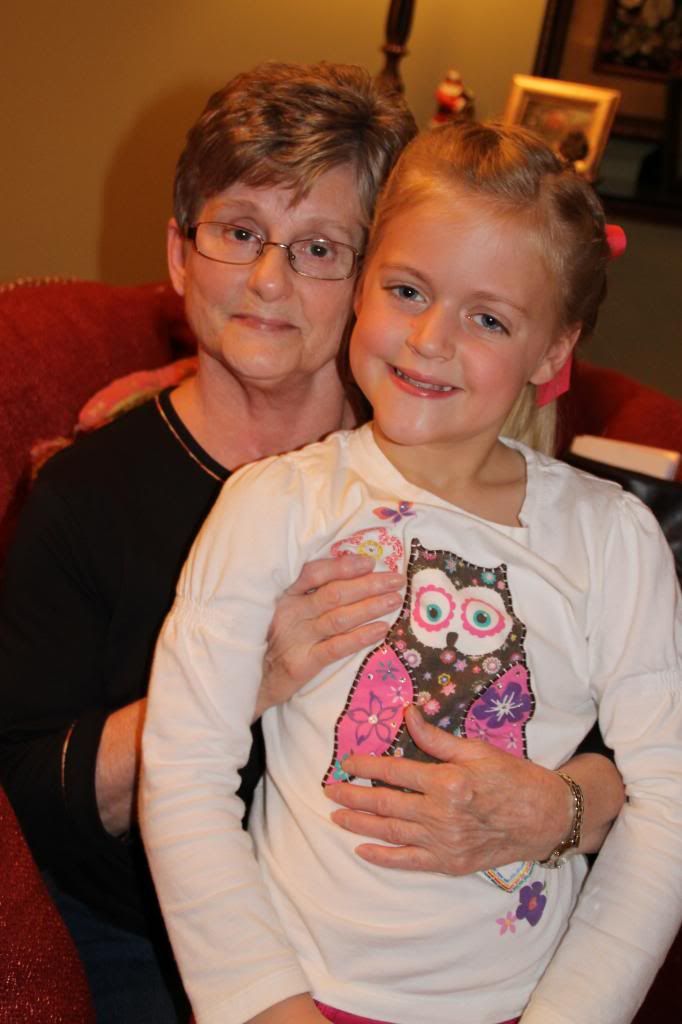 Grammy and Emily
My cousin has two children--his daughter is always sweet to play with Emily, and his son is kind enough to enjoy video games, football on television, and pick-up games of basketball and football with Andrew.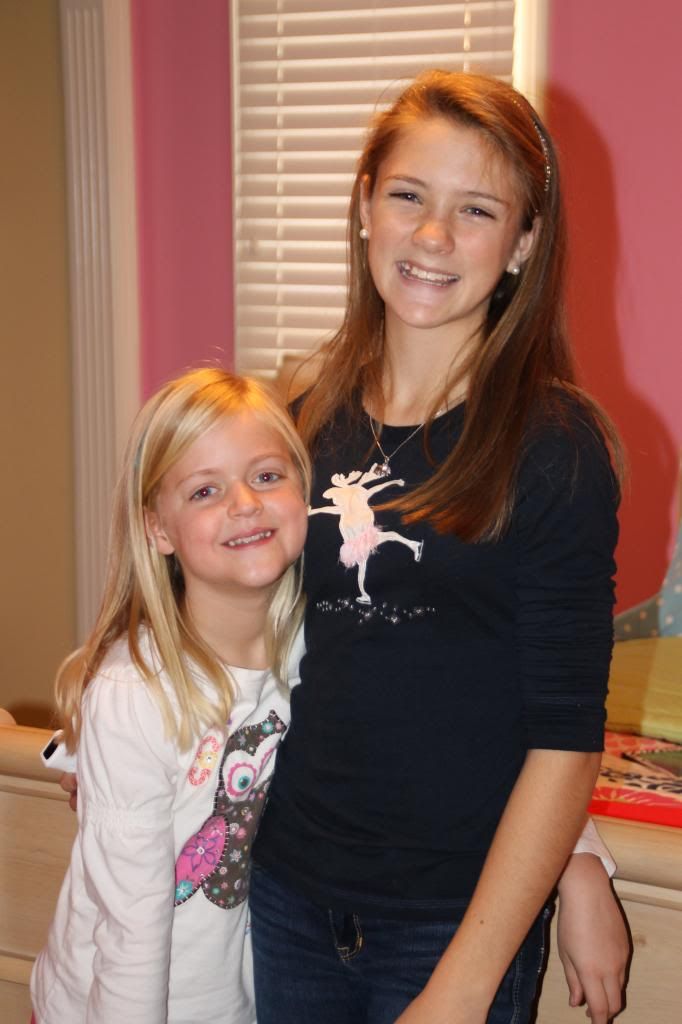 Em and Nat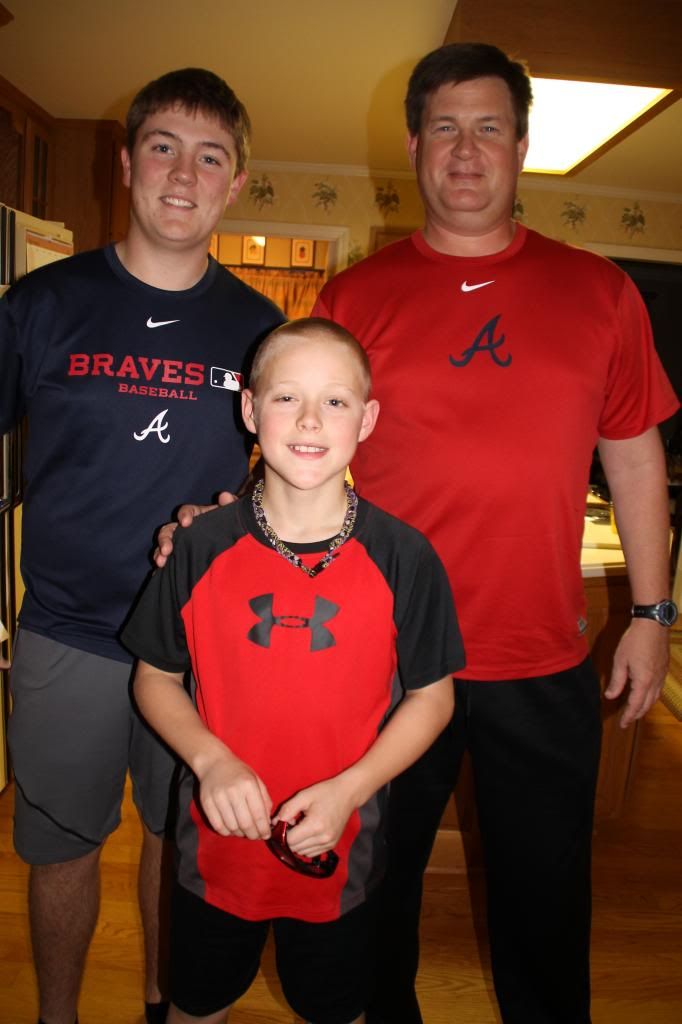 The Boys
We enjoyed a delicious lunch and hanging out on Thursday. Emily even came home with three hand-me-down American Girl dolls, their clothes, and some furniture. It was like Christmas for her!
While visiting with my side of the family is a small, intimate gathering, Adam's side is a much larger crew! On Friday, we feasted with all 30+ of them. Emily and Andrew are the youngest at this gathering as well, but they enjoy their older cousins (and there are a lot of them)!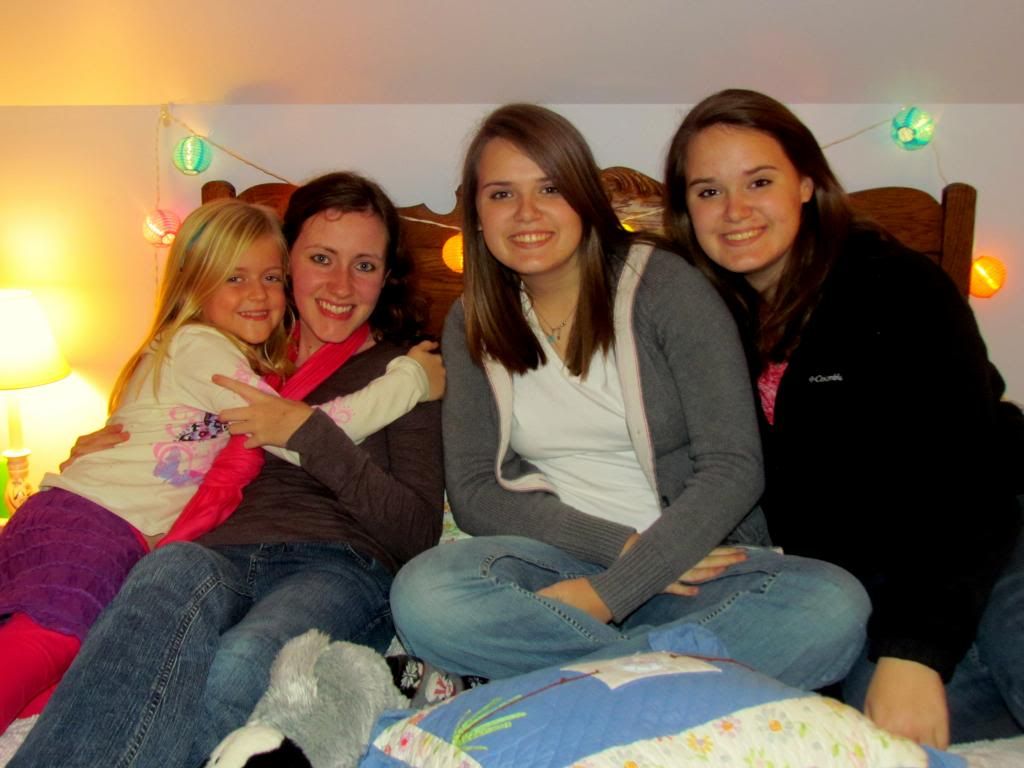 Emily loves hanging out with these sweet girls!
Bananagrams!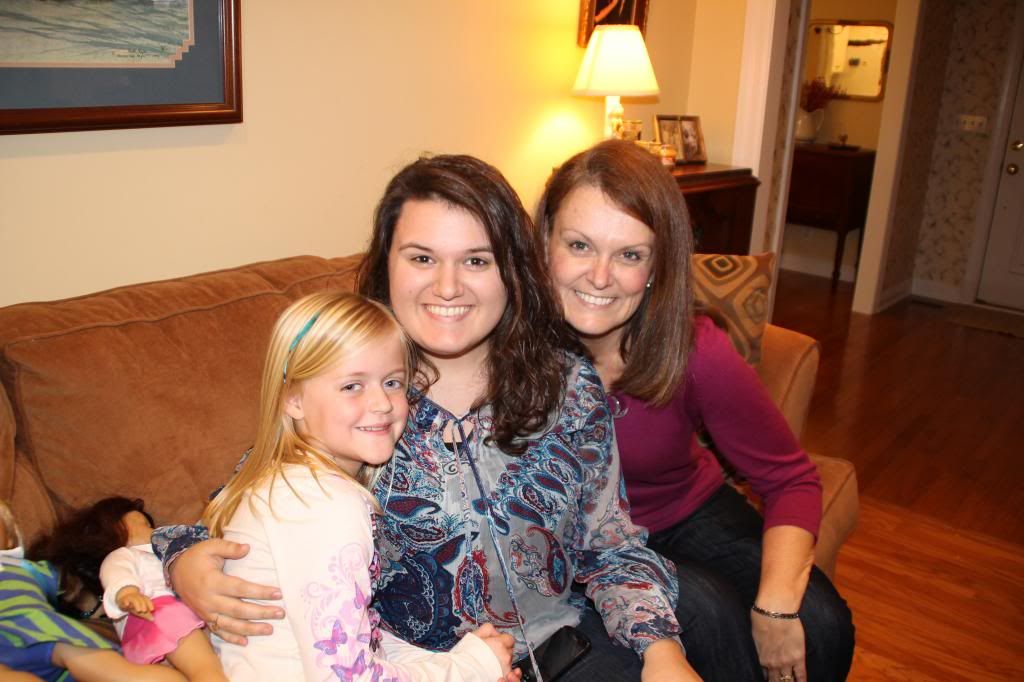 I'm old--this is my daughter with my flower girl and her mom!
We are truly blessed with a wonderful family, and we were thankful to spend this time with them. Can't wait to see them all again in a few weeks for Christmas. It's the most wonderful time of the year!
Labels: Family and Friends
posted at
11:00 AM
0 comments


Sunday, December 2, 2012
Fun Fall Family Day
The weather has gotten cooler in middle Tennessee, but we have had some beautiful days. Tomorrow the high will be 74. For December, that's amazing! Back in November, we had a similar day, which happened to fall on a Saturday, so we took advantage of the weather and headed to a local park. We enjoyed a very short hike up to the spot of an old Civil War fort and savored the family time and the view.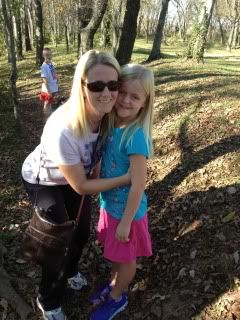 Just Me and My Girl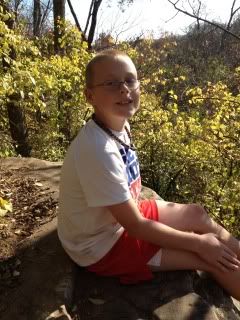 Enjoying the View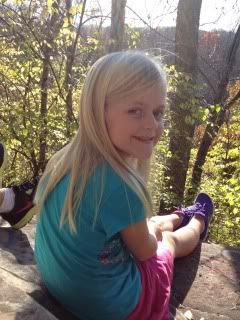 Chillin'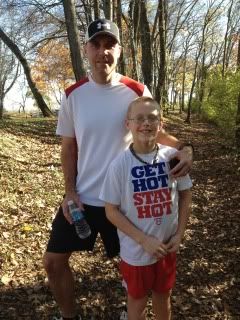 My Two Favorite Guys

After our short hike, we continued our walk by heading into downtown from the park. This trek ended at Sweet Cece's for some ice cream. Ice cream was the perfect way to finish our outing! So thankful for these slow and easy days when we can just enjoy being together!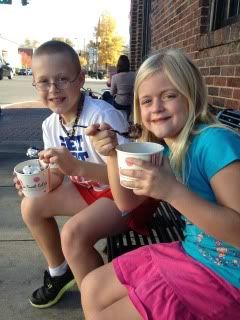 Labels: Family and Friends, Fun
posted at
8:50 PM
0 comments